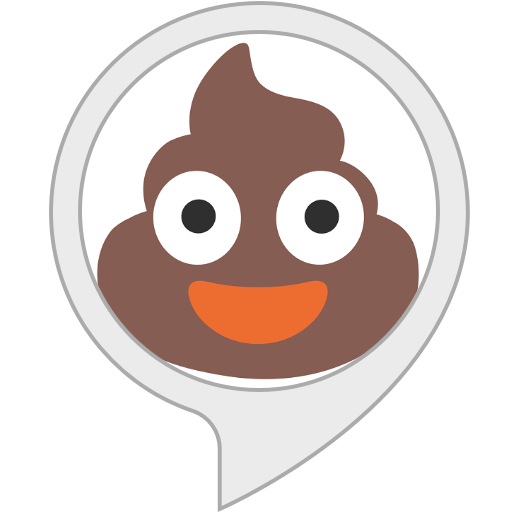 Diaper Detectives
December 2020
Contributors: Becky Lindsey, Sarah Camp, Anke Tillman, Laura Heller Bennett

The fecal fascination is real around here!  Let's face it…most doctors don't give a crap about what poop looks like.  We on the other hand, proudly wear the "Deuce Sleuth" badges of the reflux world.  After all, we examine excrement as one tool to measure whether babies are reacting to something they are eating or drinking.  
First of all, poop is a basic input/output scenario. Something goes IN to your baby's body, and, however it is tolerated (or not tolerated), shows when it comes OUT. Any little thing can affect your a body. Mom's breastfeeding diet, formula, medications, supplements, probiotics, solids, vaccines, literally anything that enters your child's body.  Stool is the best snapshot into the overall state of the gut.  
click here

to be taken to our solids post!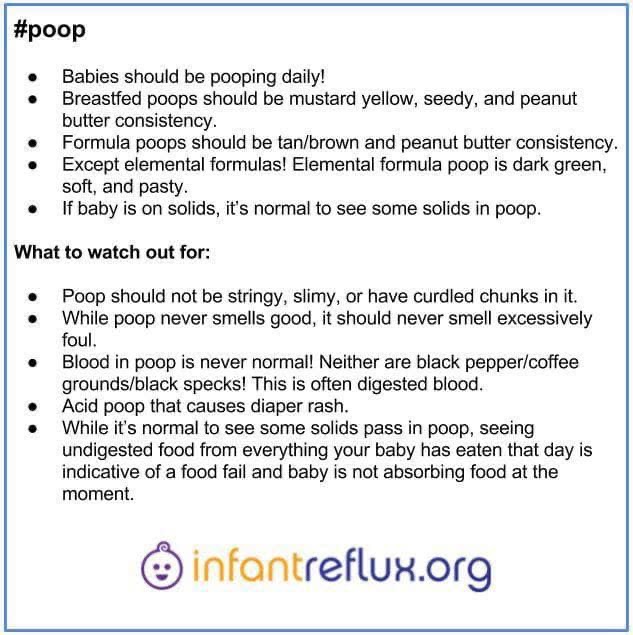 Ultimately, the goal is for there to be no blood or mucus in the stool, as well as having a good color and the right consistency.  Let's take a deeper look at what would be cause for concern…
Blood
Blood in poop can be visible as a reddish glob and it can also look like coffee grinds or pepper, i.e. dark specks. Occult blood is microscopic blood and you need to test for it. Most doctors, especially pediatricians or pediatric GIs may be able to look at a diaper under a microscope at the office.  If not, they can order labs to be outsourced.  You can also order the tests to perform at home. Blood = irritation to the gastrointestinal tract. Blood can originate from the esophagus down to the anus. Blood is extreme irritation.
Occult blood tests CAN be purchased online.  There are links to two choices at the bottom of this post! 
Mucus
Anytime you see a slick, slimy, shiny quality, with the consistency of pudding / egg whites / snot – even stringy bits when you pull the diaper apart – that's all mucus. Mucus indicates that something (or more than one thing) in the diet is not being tolerated, because mucous is created as an inflammatory response in the GI tract. 
…but what about TEETHING?
Yes, teething does cause changes in stool!
Possibilities are: extra shine, more mushy, tiny bits of mucus.
Occasional mucus while teething or a cold can be common. However, if you are seeing mucus at other times, then that would be a reason to think about changing formula or medication.
There can also be a very detectable & distinct odor from a teething poop that is different from baseline poop or even a food fail poop.
Teething should NOT cause:
The ENTIRE poop to be liquid or pudding-like

Completely different color & texture from expected baseline

Snot/jelly-like globs or huge strings of mucus
Most GI doctors will not take mucus seriously without quantitative data, such as a
fecal calprotectin test
.  We prefer to focus on the other qualitative characteristics of poop that are being described here, since they are more easily obtained and offer a truer/more complete understanding of overall poop status. 
Color
For breastfed babies, most shades of light brown, even a tan/camel yellow color are acceptable.
For formulas like Alimentum Ready to Feed, it will be just a tiny bit darker, but still a light brown.
For elemental formulas, poop should be much darker–dark army green or dark brown. 
Texture
Poop should be the consistency of peanut butter or toothpaste.  If it is more like cake frosting or looks like wet paint, this is probably too loose.  Poop soaking into the diaper is indicative of a problem as well.  If it is more like clay or play-dough, this is likely too solid, especially when Baby's primary source of nutrition is liquid.  Distinct cracks in the poop may be an indication that poop is too hard as well.  Anything firmer than play-dough, or many separate pieces of feces, is definitely cause for concern.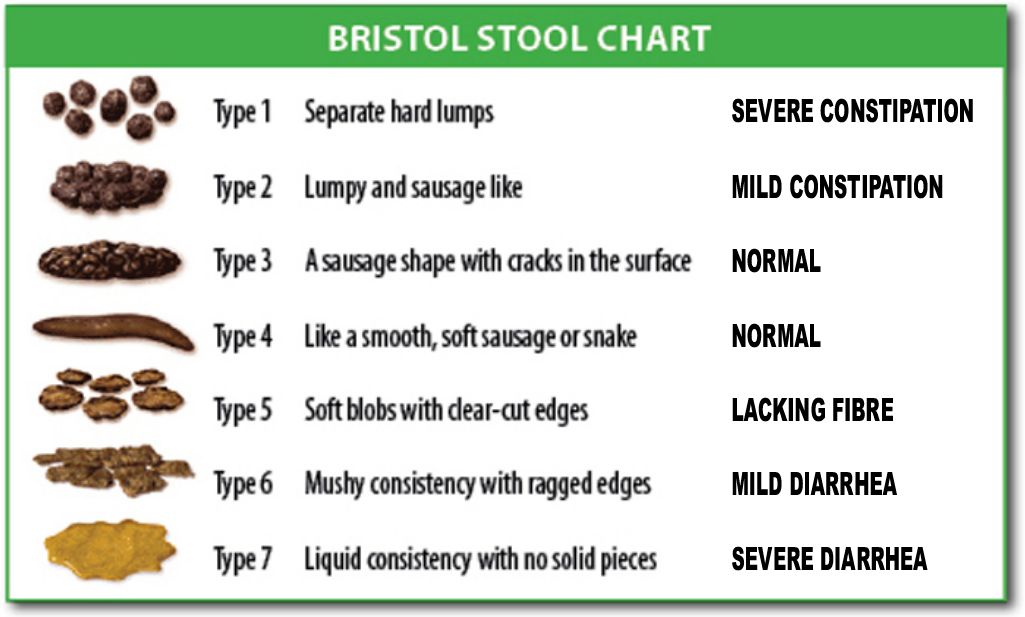 *The Bristol Stool scale is typically used for adults or children who are eating a diet primarily consisting of solids.  For infants, whose diet is all or mostly made up of liquids (breastmilk or formula), a Type 3 poop would be considered too firm/bordering on constipation.  Type 4 is ideal, and Type 5 would be considered good as well (as long as no mucus or shininess is present).
Latent constipation is different from acute constipation. We have to recognize the fact that one bowel movement a day, even with an acceptable Bristol stool chart number, does not rule out latent constipation. The large intestine is an organ capable of accumulating and retaining stale feces, up to several weeks. Whenever the bowel gets over-filled from the other end the stale feces may get occasionally expelled, this shows as isolated "marbles" in an otherwise normal soft portion of stool. Sometimes the stale feces does reflux back into the small intestine, and the body's response is intestinal inflammation and diarrhea. Once all is cleaned out, the filling up cycle starts all over. Other symptoms of latent constipation are a totally decreased appetite and delayed gastric emptying, straining, and large stools. This whole situation of course contributes to reflux a lot, by increasing intra abdominal pressure.
The first possible cause of latent constipation that should be considered are food allergies or intolerances.  Other, less common factors may be anatomy (longer part of the colon than others) or even rare genetic conditions like Hirshsprung's Disease.  
Stephanie H. writes: I didn't think my son was latent constipated. I knew he had a hard time going sometimes and we had constipation issues, but never thought this was it until the x ray.  It showed he was severely backed up.  He had a ton of stool plugs.  We did a cleanse for a week and another x ray, still backed up. We are continuing the cleaning out process until at least November. The Gi doctor told me it can take up to six months to get fully cleaned and emptied out. It can just take that long to get rid of it all. We did Miralax and suppositories for the first week to make sure he was going to the bathroom at least twice a day, now we are doing Miralax and Senna. I know some people don't like Miralax but it's working for him and everything else we have tried hasn't cleaned him out. I'm taking magnesium, we both are on probiotics, I give him flax oil and pear juice and I have him drinking at least 8 ounces of clear liquid (he's 13 months).  It took us a good month before we started seeing major changes. we are seeing results slowly! He is only waking up 3-4 times a night compared to every 15-45 minutes. He has taken a few 2 hour naps. This past week he has just been a different kid. Happy and eating so much better. I hope it continues to improve! Parents if you think your kid may be constipated, push for an x-ray! This cleaning out process has by far given us the best results of the million different things we have tried.

Frequency
𝐁𝐚𝐛𝐢𝐞𝐬 𝐧𝐞𝐞𝐝 𝐭𝐨 𝐩𝐨𝐨𝐩 𝐞𝐯𝐞𝐫𝐲 𝐝𝐚𝐲! 𝐇𝐮𝐦𝐚𝐧𝐬 𝐧𝐞𝐞𝐝 𝐭𝐨 𝐩𝐨𝐨𝐩 𝐞𝐯𝐞𝐫𝐲 𝐝𝐚𝐲! 𝐘𝐨𝐮 𝐧𝐞𝐞𝐝 𝐭𝐨 𝐩𝐨𝐨𝐩 𝐞𝐯𝐞𝐫𝐲 𝐝𝐚𝐲! "𝐁𝐮𝐭 𝐦𝐲 𝐩𝐞𝐝𝐢𝐚𝐭𝐫𝐢𝐜𝐢𝐚𝐧 𝐢𝐬𝐧'𝐭 𝐜𝐨𝐧𝐜𝐞𝐫𝐧𝐞𝐝…" 𝐖𝐞𝐥𝐥, 𝐖𝐄 𝐀𝐑𝐄 𝐜𝐨𝐧𝐜𝐞𝐫𝐧𝐞𝐝!
We consider not pooping at least once per day constipation, regardless of how poop looks once it does happen.  This is true for both breastfed and formula-fed babies.  
It may be "common" for breastfed babies to go several days without pooping, but this does NOT mean it is "normal!"  This article explains why breastfed babies should poop frequently, possible causes of why they may not be, and potential consequences for not pooping frequently enough: https://modernalternativemama.com/2017/12/03/often-breastfed-baby-poop 
Laura H.B. writes: Ok I'll jump right in and say that I've learned over the years that all humans, newborns, toddlers, children, adolescents, adults or otherwise, all humans need to poop each & every day. This holds especially true for our population, that we find here in the group.

"Breastfed Babies Need to Poop Every Day" https://web.archive.org/web/20170514130441/https://holisticibclc.blogspot.com/2011/06/gut-microbes-and-poop.html/ 

From my friend: "I don't know of any literature [that supports this per se, keep reading]. I think it is accepted in the mainstream medical community, even among breastfeeding gurus, that babies can go quite some time (a week to 10 days, even) without pooping. I am not, and was not, comfortable with my baby going longer than 2 days and, more than that was preferred. This blog by the holistic IBCLC explains it way better than I ever could."

From the author: "Someday, I am going to write "Confessions of an IBCLC Heretic," because for almost 20 years, I have been saying that it is absolutely not normal for babies of any age to have fewer than several significant bowel movements per day. Not per week! Per day. The more I learn about the gut and the gut-brain axis, the more I have to learn. But, I am confident that human milk is not "all used up" and that babies are not "efficient enough that there is no waste".
Anke T. writes: I have to second this. I had  several moments in pediatric offices, when my middle child was an infant and he was not having stools for a lot of days in a row. The pediatrician took a deep breath and said wholeheartedly how "normal" and "fascinating" this is, that EBF babies can go forever without a poop. It was ridiculous. I could tell it wasn't normal, why would my baby sweat at night like crazy and stare at me with insomnia?  We need babies to go every day. We don't want latent constipation, we don't want megacolon and we also do not want the risk of intussusception.
Caileigh P. writes: My first was EBF and he went days without pooping. I knew nothing of poop and was told it was normal. Well his bowels spent so much time backed up that he had to have hernia surgery at the age of 2. His lower intestines would pop out when he had to poop. The surgeon said it looked like the other side would herniate as well. We battled pooping issues from that too and 2 years after that he had his second hernia surgery.

It's not normal and it's crazy how much doctors don't concern themselves with infants poop unless there is blood.

[After getting diet and meds straightened out]: My youngest toddler has baseline poops every day now and is the happiest person with a healthy appetite. She didn't have delayed gastric emptying. She was extremely constipated and they weren't properly addressing that. 
---
Poop-arazzi
As parents of gerdlings, we are freaking exhausted! It's hard to keep track of if your baby pooped at all, let alone what may have caused the poop to look a certain way.
If you are trialing formulas, foods, whatever, it is definitely helpful to keep a food journal of dates, reactions, passes/fails, etc. so that you have everything in one place.
*However,* this trick may also help you as well. Take a picture of every poop diaper you can.  If someone else is watching Baby, you can ask them to take a pic or save the diaper for you when you get home. 
You can keep a separate album of the poop pics on your phone & use the markup tool to "write" on each picture. 
Some things you may want to include are:
day # ___ of _____ (food) trial

___ days since _____ (food) fail

___ days fully on (formula type)

___ days since shots

didn't go for ___ days

Epsom salt/mag oil bath today or yesterday

Gave _____ (medication like Tylenol/Motrin/Benadryl) today
In doing this, you can detect problems as well as be able to identify patterns with how long it takes baby to "recover" back to baseline from the time of fails.
You will want to "track" any new food introduction, time since a fail, etc. for at least 1 week, preferably two.
Stacey M. writes: "I've seen conversations in the group with suggestions on how to keep track of/document pops, etc. just wanted to share the app we use… it's called BabyConnect. While we are at work, our nanny can update everything including pics of poopy diapers, bottles, meds…. and there's a note portion where I keep the calculations for meds when we have updated weight. It has made keeping up with "everything gerdling" so much easier. I think it was $5 in the App Store but so worth it.

With our oldest we logged all of his foods during trials (and still do, because you never know). It makes it easier to go back and look at poops and see what was going on at that time. Anyway, might be a suggestion for new moms in the group trying to keep organized with everything"
---
Have you ever wondered if your baby's poop was baseline or a fail? Have you wondered what mucous in poop looks like? Would you like to compare? Well we have some wonderful mommies who have graciously allowed us to share with you some baseline and fail poop pictures.  Check out the sh*tshows — we mean, example pictures — below! 
WARNING: Pictures of actual poop below (NSFW)
Each picture has a description that goes with it. Notice that some do have seeds and others do not. The colors are also not identical. However, each of them is dry/matte and the texture of peanut butter or toothpaste. No mucus, not formed.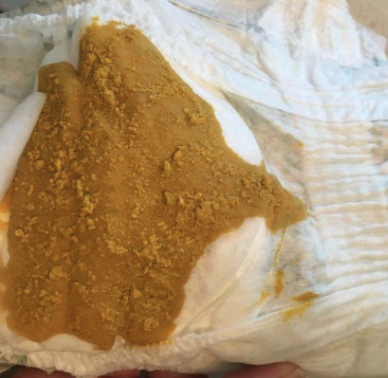 Breastmilk Baseline #1
EBF @ 1 month old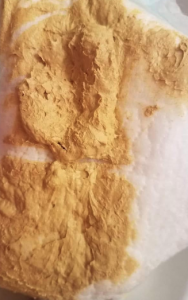 Breastmilk Baseline #2
TED Breastmilk only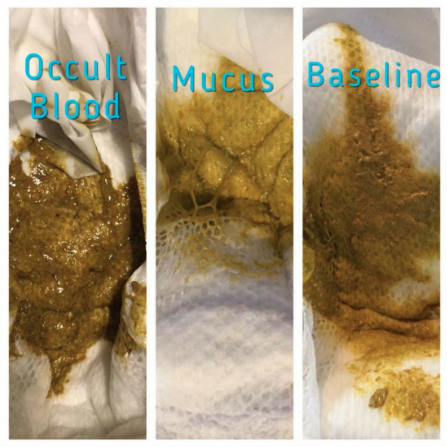 Breastmilk Baseline #3
Progress of reaching baseline. Note that the slight mucus in the baseline pic is due to teething.
Breastmilk Baseline #4
6 month old baby: EBF + Solids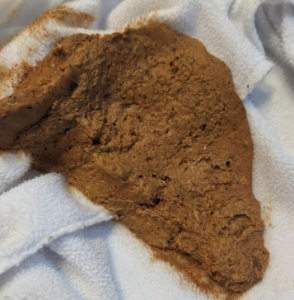 Breastmilk Baseline #5
Breastmilk + Solids

Breastmilk Baseline #6
TED Breastmilk + baby eating avocado
Breastmilk Baseline #7
Breastmilk + solids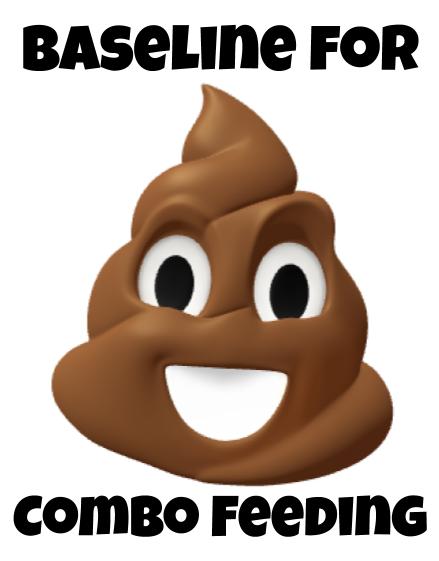 These babies were fed a combination of breastmilk and formula.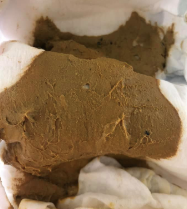 Combo Baseline #1
Alimentum RTF + dairy-free / soy-free breastmilk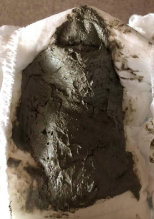 Combo Baseline #2
Neocate + TED breastmilk
The color of these will differ based on which formula each baby was on. However, note that they are all the consistency of peanut butter or toothpaste, not play-dough or pudding.
Formula Baseline #1
Alimentum Ready to Feed. Top is better than the bottom (a little too mushy)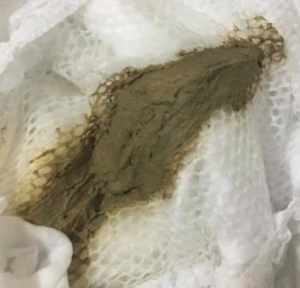 Formula Baseline #2
Alimentum Ready to Feed
Formula Baseline #3
Alimentum Ready to Feed
Formula Baseline #4
Alimentum Ready to Feed + Stage 1 Purees
Formula Baseline #5
Alimentum Ready to Feed + Purees
Formula Baseline #6
Alimentum Ready to Feed + Prune Puree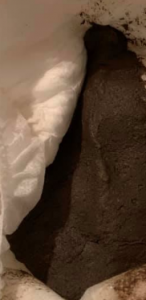 Formula Baseline #7
Alimentum RTF + Solids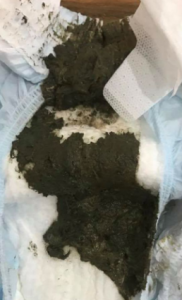 Formula Baseline #8
Pretty good Neocate poop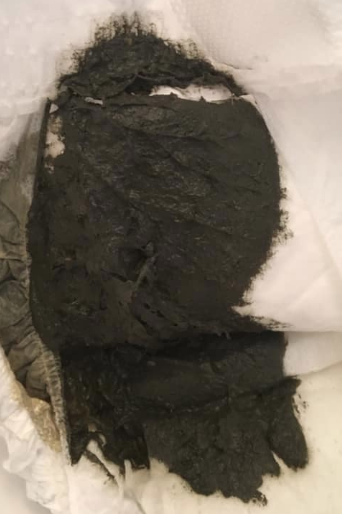 Formula Baseline #9
Neocate + a small amount of purees
Formula Baseline #10
Neocate + Solids. The bottom half is great. The top half has a little bit of shine which may be attributed to teething &/or medication.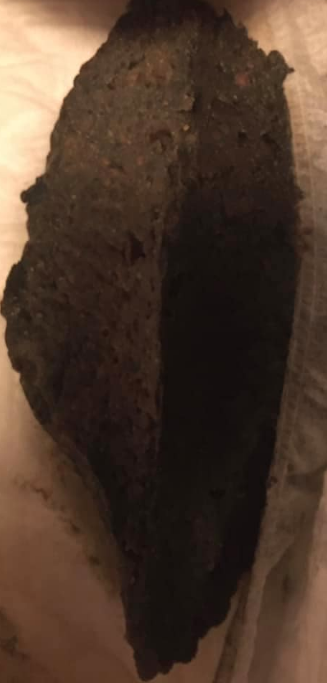 Formula Baseline #11
Three full meals of solids with four bottles totaling 17-18 oz of Neocate per day. Diet includes everything except dairy & soy, but baby has been exposed to all other major allergens without issue. The color varies based on what baby has eaten, but the texture is consistently like this. He poops 1-2 times per day.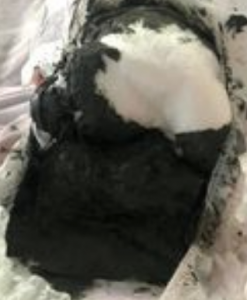 Formula Baseline #12
Good Neocate poop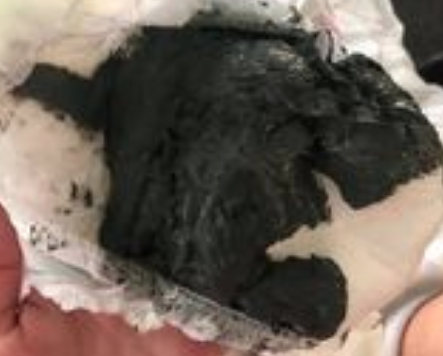 Formula Baseline #13
Decent Neocate poop
Formula Baseline #14
This Neocate poop is a little wet, but would be considered baseline as long as baby is pooping daily and ALL other symptoms of reflux are completely controlled.
Formula Baseline #15
Neocate baseline for THIS baby -- this baby is extremely sensitive to all medications. For this baby who is on a properly dosed PPI (home compound), this is likely the best that poop will get. However, ALL other symptoms & factors point toward baby tolerating this formula great.
Formula Baseline #16
Neocate + pear puree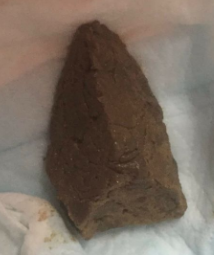 Formula Baseline #17
Alfamino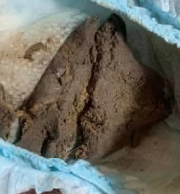 Formula Baseline #18
Elecare + purees
Formula Baseline #19
Elecare + a little bit of apple sauce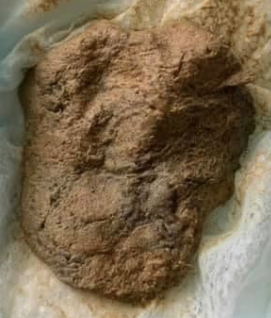 Formula Baseline #20
Elecare + solids
Formula Baseline #21
Elecare + a handful of solids
Formula Baseline #22
Baby on mostly solids but also getting a few small servings of Ali RTF throughout the day. Note: it is NORMAL to see SOME pieces of food in the stool. However you should not see all or most of the food passing through especially undigested.
Formula Baseline #23
Kate Farms (toddler formula, for ages 1+) — LO on minimal solids/gut rest. Normal to smell VERY bad and have lots of gas.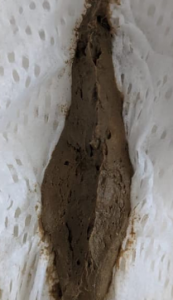 Formula Baseline #24
Alimentum RTF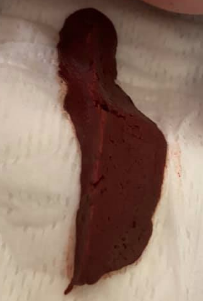 Formula Baseline #25
Baby reached baseline on Alfamino, but had to go on Cefdinir (antibiotic). Poop stayed baseline texture, but turned red, which is a common occurrence on this medication.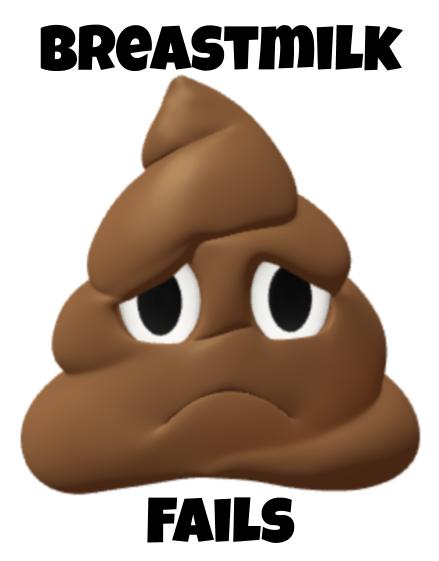 Each picture will have a description that goes with it. Some explain what is wrong with the appearance of the poop, and others explain what the failed food or issue was.
Breastmilk Fail #1
Wet paint texture = mucus
Breastmilk Fail #3
Blood & mucus
Breastmilk Fail #4
Blood & mucus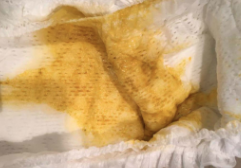 Breastmilk Fail #5
Mucus & soaking into diaper
Breastmilk Fail #6
Egg-white consistency = mucus

Breastmilk Fail #7
Dairy exposure fail. Color is too dark & green.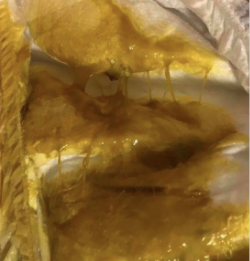 Breastmilk Fail #8
Obvious strands of mucus.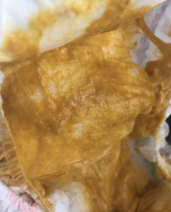 Breastmilk Fail #9
Soy exposure fail. Obvious strings of mucus.
Breastmilk Fail #10
Watery & mucus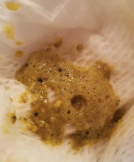 Breastmilk Fail #11
Frothy & mucus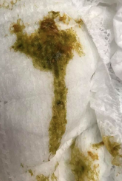 Breastmilk Fail #12
Failed dairy trial.
Breastmilk Fail #15
Bloody mucus & wrong color
Breastmilk Fail #17
Watery/liquid
Breastmilk Fail #18
Mucus & possible blood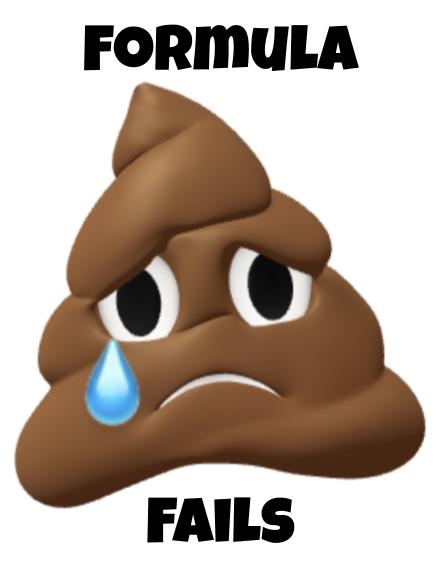 These have one or more of the following: mucus, blood, constipation
Formula Fail #1
Alimentum Powder

Formula Fail #2
Similac Sensitive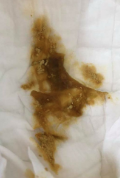 Formula Fail #4
Elecare LCP Colitis

Formula Fail #5
Elecare & had Rotavirus
Formula Fail #9
Neocate & had C-Diff
Formula Fail #10
Neocate & had C-Diff
Formula Fail #11
Neocate LCP + sweet potato
Formula Fail #12
Neocate LCP + sweet potato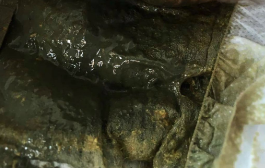 Formula Fail #13
Neocate LCP

Formula Fail #14
Neocate + banana & mixed berries + antibiotics

Formula Fail #15
Alimentum Ready to Feed
Formula Fail #16
Alimentum Ready to Feed
Formula Fail #17
Alimentum RTF + carrot fail (mucus)
Formula Fail #18
Alimentum RTF acute constipation. Baby did not poop for 3 days & had to have a glycerin suppository.
Formula Fail #19
Alimentum RTF Constipation (butternut squash fail)
Formula Fail #20
Older baby who was on almond milk & failed corn exposure (mucus & little dark specks = blood)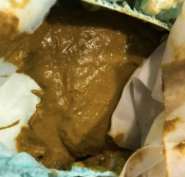 Formula Fail #21
Formula Fail #22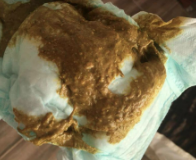 Formula Fail #23
Formula Fail #24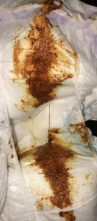 Formula Fail #25

Formula Fail #26
Formula Fail #27
Formula Fail #28
Constipated
Formula Fail #29
Baby had baseline on Alfamino formula, then had to go on antibiotics. Amoxicillin caused a terrible GI reaction (fail poop above), so the doctor had to switch to a different medication.
Teething Comparison
These pics were taken two days apart. The top one is a good baseline for this baby. The bottom one is a typical teething poop for her. They were also not doing any food trials currently, so that's another way mom knew teething had to be the culprit. Sometimes her teething poops also have more liquid *around* a poop that looks like this, soaked into the diaper a little.
ANYTHING that goes into Baby's mouth can affect poop!
Many babies with GERD are extremely sensitive to certain trigger ingredients.  Some of the clearest examples can be seen with how medications can change a baby's poop literally within a matter of hours.  Whenever you are having an issue with poop, you need to investigate every. little. detail.  A few examples:
Any artificial colors or flavors are suspect.
All gas drops contain xanthan gum & citric acid.  These can be derived from either soy or corn.  As a further demonstration, Mylicon brand contains glycerin, microcrystalline cellulose, PEG-40, sorbitan, and sorbitol.  These are all potential corn and/or soy derivatives.  
CVS Cherry Supreme contains benzyl alcohol, saccharin, sorbitol, & xanthan gum.  These are mostly corn derivatives but some can be derived from soy as well.
Most OTC medications contain milk and/or soy ingredients.  All OTC medications contain corn ingredients.
Some babies may need certain waters for their formula and/or the home compound.  Depending on what is added to the water or how it is treated, there may be triggers hidden in it.  For instance, Nursery Water has added minerals that may not be tolerated.  Tap water varies from one location to another since treatment plants have different methods and needs for cleaning the water.  
Even the sugar being used in the home compound may be an issue for some extremely sensitive babies.  
Check out the two images below to see the drastic changes these tiny amounts of offending ingredients can have on a baby's body / how it shows in poop!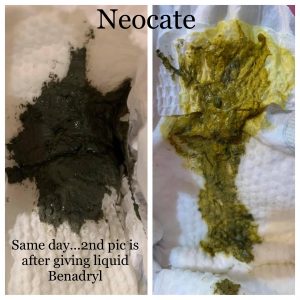 If a baby is struggling with chronic irritation or diaper rash, this is a sign that something is bothering their body.  It could be the diapers/wipes themselves irritating the skin.  Another potential issue that needs to be addressed ASAP is something in baby's diet that is not being tolerated.  Think of it this way: if that's what the OUTSIDE of the body looks and feels like, imagine what the INSIDE of the body must look and feel like.  Consider making changes to diet (further eliminations if breastfeeding or giving solids, or potentially a different formula) to resolve the diaper rash.  The picture below is a concoction of a severe diaper rash ointment put together by many moms from our group over the years.  It is meant to be used as a means of temporary relief for baby; the root cause still needs to be addressed for complete healing.  
When you do this long enough, you start seeing things that remind you of baseline and/or fail poops everywhere!  Here are our "would-be" impressions of each image…enjoy! 😂
Car
Great color for EBF poop
Soft Serve Ice Cream
Definitely too soft, a little too wet, might want to be tested for occult blood given the dark specks 
Weird Browines
Very constipated, definitely too formed. There are also many undigested bits there, which further indicate something in diet not being tolerated.